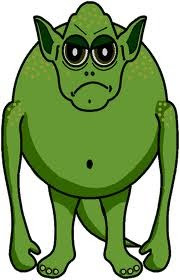 Professional envy was mentioned within a comment on Life in Clarity a short time ago and while I dont believe the sentiment from the person saying it was completely true, I do believe there is quite a bit of professional envy amongst our peers and I own up to feeling this way sometimes.
It's a difficult subject to get into, but I wanted to bring it out into the light, air it a little and take away some of that cloak and dagger and hide this dirty little secret away, business.
When I say peers, I mean those writers who are in similar places to where you are now or a step or two in front. You've built that online bond, but then one of you hits the dream first and is published.
At this point I would imagine I'd be feeling two things. Absolute joy at a friends well deserved success. After all, I know just how damn hard she worked for it. But - I would also, deep down, get a niggle of envy - the, why can't I get there, type feelings.
I've decided it's natural and nothing to be ashamed or worried about. It happens in all sorts of lives and scenarios. Not just in writing worlds. It's human nature to look out at what others achieve, to want more for ourselves and to feel a little let down - importantly - by ourselves rather than those who are achieving. It's something we need to acknowledge and then try to deal with it sensibly and be absolutely thrilled for your friend and tell her you expect equal bundles of excitement when you get there.
It's a long arduous journey this road to publication and watching people you know getting there before you is just another of those bumps. Keep at it and keep smiling.