Yesterday the family and I took a trip to Knowsley safari park. The kids are back at school next week so I took a days annual leave to make one last day trip of the holidays. It turned out to be a lovely sunny day and I loved it. I'm a big kid really.
Little man and I had the opportunity to hand feed a giraffe. I think it was good timing for us. We were on the viewing platform when the manager came out with a handful of leaves and started handing them out. I was as giddy as the children on there. The manager was handing out the leaves to the kids and little man had a few. I had to ask if it was ok for grown ups to do it! Giraffes are beautiful creatures.
Did you know giraffes have blue tongues?
We also drove through the monkey enclosure. Our car was covered in red bottomed baboons who thought it was great fun to pull on the windscreen wipers.
We had a close encounter with a camel who actually walked into the side if the car.
Just look at the colour of the sky!
The lion enclosure was amazing. Huge, sleek, powerful animals.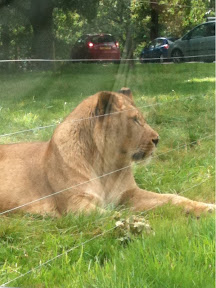 And for anyone interested in creepy crawlies, I leave you with a spider.